Water Resources Building
The Department of Water Resources is open to the public by appointment only. Call (701) 328-2750 with questions.
Drought Disaster Livestock Water Supply Project Assistance Program
N.D.A.C., Section 89-11 provides the Department of Water Resources the ability to provide cost-share assistance to livestock producers with water supply shortages caused by drought.
Eligible livestock producers in drought proclamation counties may qualify for up to $4,500 in cost-share assistance, for up to three projects, on the following items:
New water wells,
New rural water system connections,
New pipeline extensions, pasture taps, and associated works,
Labor, materials, and equipment rentals for work completed by the producer to develop new water supply projects.
PLEASE NOTE
In an effort to provide as much support to projects as possible, we want to provide an important reminder - applicants must receive approval for project(s) from the Department of Water Resources prior to commencing work. Costs incurred before approval are not eligible based on the rules of the program. Staff understand the need to act quickly, and will continue to process new applications in the most efficient manner possible.
For additional program details and application forms click here.
NAWS Advisory Committee meeting
NAWS Advisory Committee meeting will be August 6, 2021, 1:30 p.m. at the Minot Public Works building.
The Current - July
The Current is a quarterly Department of Water Resources newsletter that provides the latest agency-specific information concerning water development, regulatory and appropriation efforts, water education, policy changes, Water Commission meeting highlights, and much more. We hope you find the content interesting, useful, and insightful.
2021 Water Development Dashboard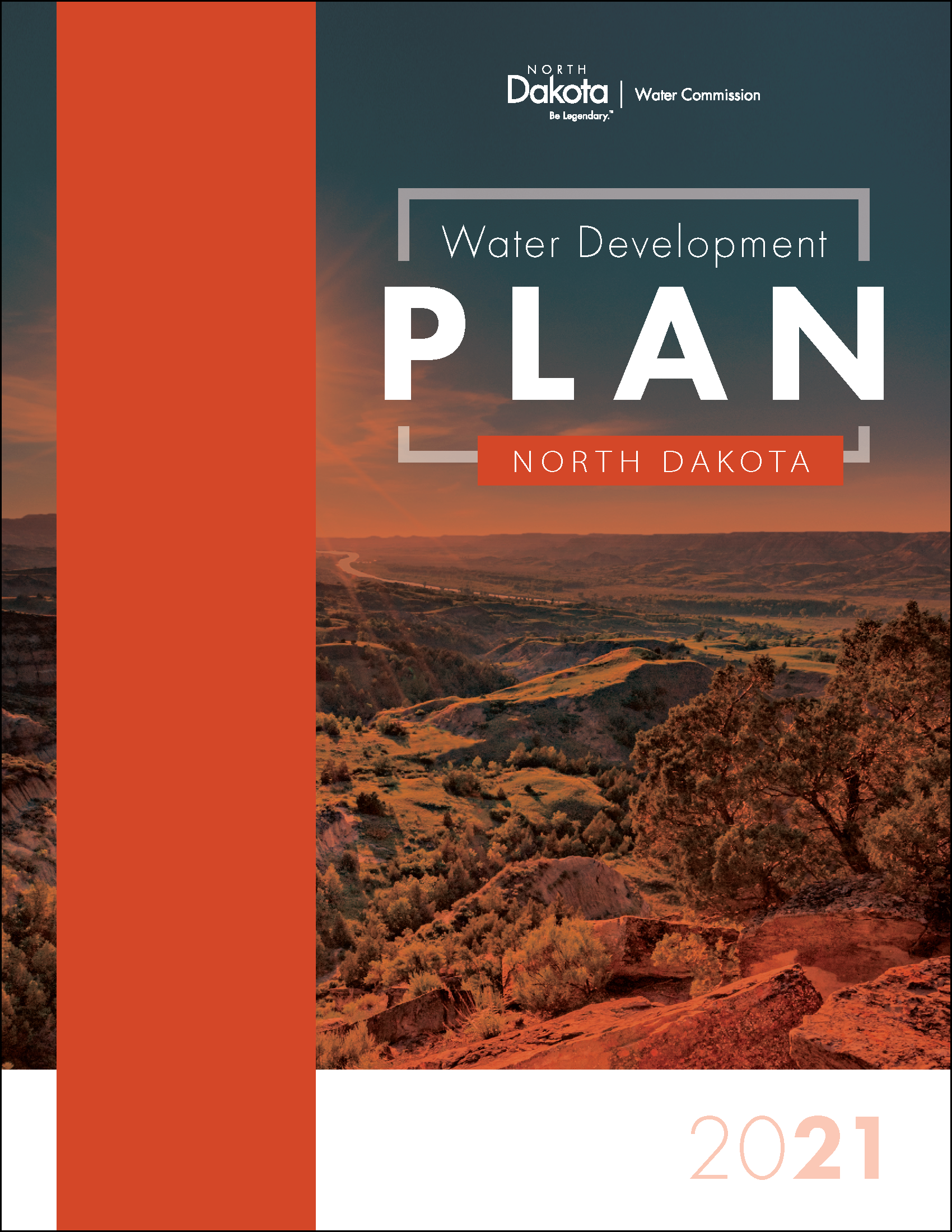 The 2021 Water Development Plan is available for review - along with a new dashboard to provide updated information as needed.
The Water Development Dashboard is an interactive platform developed for the water community to make the 2021 Water Development Plan a living document, and to remain up-to-date on North Dakota's water development efforts. To access the dashboard, click here or the image to the left.
Water Commission Meetings
In order to access the bookmark function for the agendas, please view this document via a Firefox browser or download it and view in Adobe Acrobat.
We will resume in-person Commission meetings on August 12 and October 14. Call-in/remote options will also be available and provided when agenda is posted.
August 12, 2021 / 1:00 p.m.
State Office Building Basement Conference Room
October 14, 2021 / 1:00 p.m.
Pioneer Room, 1st Floor, Judicial Wing, State Capitol
December 10, 2021 / 9:00 a.m.
Ramkota Hotel, pending COVID restrictions.
February 23, 2022 / 1:00 p.m. to 5:00 p.m.
April 12, 2022 / 1:00 p.m. to 5:00 p.m.
June 7, 2022 / 1:00 p.m. to 5:00 p.m.
August 11, 2022 / 1:00 p.m. to 5:00 p.m.
October 13, 2022 / 1:00 p.m. to 5:00 p.m.
December 9, 2022 / 9:00 a.m. to Noon
Reminder – Only complete applications received at least 45 days before a Water Commission meeting will be considered at that meeting. All other applications will be held for consideration at a future meeting unless specifically exempted by the Director.
For information, please contact Cheryl Fitzgerald at (701) 328-4940 or by e-mail.
Subcommittee Meetings
All 2021 subcommittee meetings will begin at 1:00 pm CT and will be held via phone until further notice.
Call-in information will be provided when agendas are posted.
September 9, 2021
November 10, 2021
For information, please contact Cheryl Fitzgerald at (701) 328-4940 or by e-mail.